Car Accidents Caused by Snow and Ice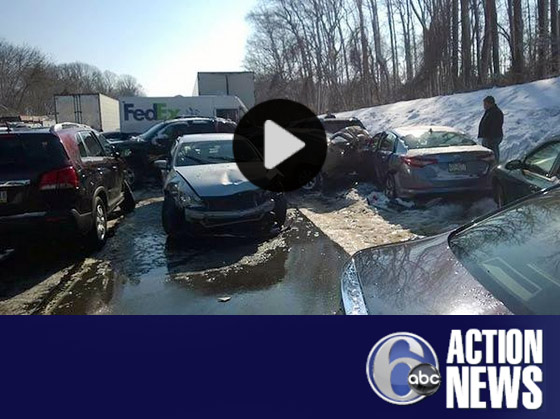 Driving in wintry weather is part of many people's daily lives in Pennsylvania. Although drivers endure regular snowfall and road freezing for several months out of the year, hundreds of winter weather-related accidents still occur in the state annually.
Snow and ice can create slippery and hazardous road conditions. A car travelling too fast may not have enough time to stop on an icy road surface, which can lead to multi-vehicle pileups as well as serious injuries and deaths. When large commercial vehicles are involved, the devastation can be even worse.
Weather Related Crash Statistics
According to the Federal Highway Administration (FHA), one in every four crashes on U.S. roads each year is weather-related. Many of these occur in snow, ice, sleet, and other winter driving conditions. That number adds up to 1.5 million weather-related car accidents every year.
We Hold Negligent Drivers Responsible
Pennsylvania drivers have a legal obligation to drive safely and consider potentially dangerous weather conditions. Tragically, negligent drivers cause accidents when they fail to adjust their behavior in low visibility and/or slippery road conditions.
Proving negligence in a weather-related accident can be complicated. Our lawyers know how to investigate and uncover the details of vehicle accidents that occurred in snowy and icy conditions and use that critical information to act on victims' behalf.
Free Consultation — No Fee Unless We Succeed
Ostroff Injury Law is a trusted personal injury law firm in Pennsylvania. Our attorneys have decades of experience handling cases involving vehicle accident-related injuries and deaths. In just the past few years, we have obtained more than $10 million for victims involved in both passenger and commercial vehicle crashes. Some of our clients were injured in some of the worst weather conditions in Pennsylvania history.
If you or a loved one has suffered an accident due to winter weather, we can help. Our firm has set up a hotline specifically so you can speak to an experienced accident lawyer and get answers to questions right now. We will get back to you even on weekends and through winter storms.
Call us toll free at (800) 688-6489 for a free and confidential consultation.